Glasgow Project Room, July 2014
'After Hours' combines new sculptural, video and installation works created by Aideen Doran and Fiona Chambers, resulting from a process of discussion and research into the collapsing distinctions between labour and leisure. This work focuses on creating dialogues around the dual role of the artist as both a producer and a labourer in an information economy, exploring the potential of the artist's labour to resist the imperative of productivity, and to subvert the purposes of technology. Both artists' practices embrace aspects of labour-intensive craft and a creatively indolent misuse of time, mining the tensions between the two.
Doran has produced new works for this exhibition that draw upon the legacy and influence of the 1970 exhibition 'Information', a landmark survey of conceptual art curated by Kynaston McShine at MOMA, NY. The exhibition scenography references the style of informal office spaces pioneered by companies such as Google, spaces which in turn echo the artistic innovations such as the Sacco beanbag seating used throughout 'Information'. Individual works are integrated within this environment, creating a holistic system for the display and interpretation of their works.
Chambers' works explore recreation, play, pastime, and the act of collection, particularly as answers to the frenzied contemporary need to fill time. She exhibits a body of new hand-crafted objects which function like props within the space alongside a site specific video installation. By adopting hobbies such as needlework and rug-hooking and incorporating elements that signify the work environment such as hi-vis fabric, she considers the overlap of work and pastime both as traditional and digitally mediated, and the pressures of utilizing time in an environment of email spam, kitten photos and payday loan ads. 'Power Hour' is a solo performance of a popular drinking game where a shot of beer is consumed every minute for an hour. The social element is removed, subverting and formalising the repetitive nature of the task in hand.
They share an interest in the accelerated nature of both labour and leisure in late capitalism, and the incessant demands placed on the individual to occupy his or her time with productive activity.
Aideen Doran: http://www.fdoran.com/aideen/afterhours/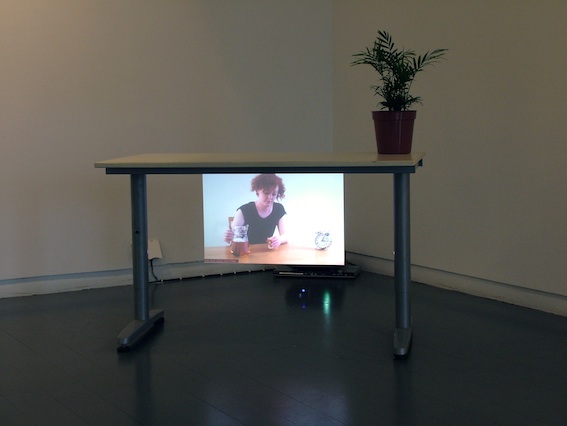 Fiona Chambers :: Power Hour
Computer table, tracing paper, single channel video installation (60 minutes looped)
& Aideen Doran
Parlour palm (Chamadorea)
Houseplant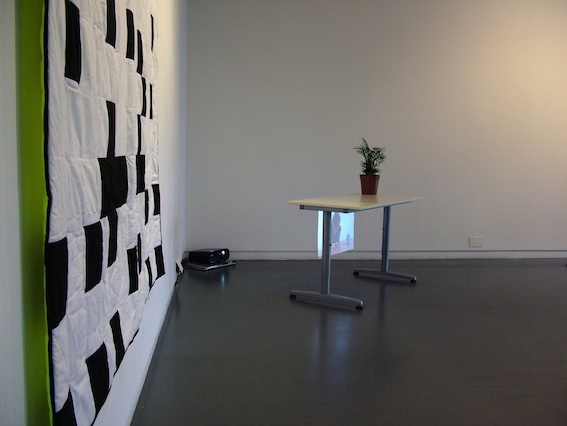 (left) Fiona Chambers :: Quilt #1 (Black, White, Yellow)
Polycotton, wadding, thread, Evening Standard crossword pattern.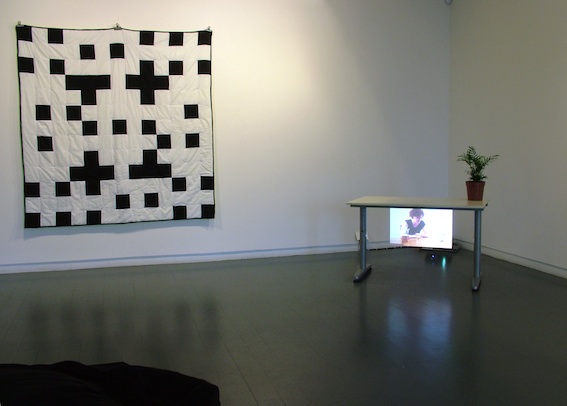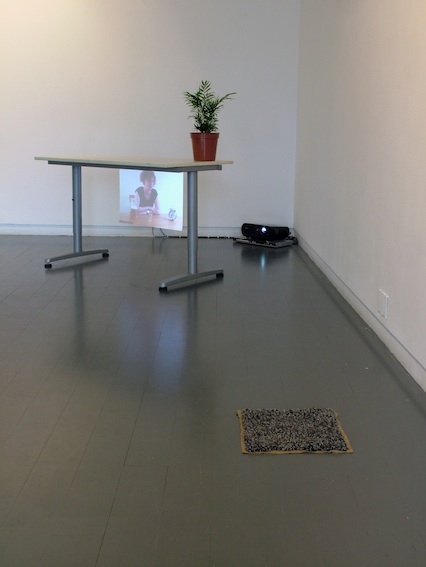 (on floor) Fiona Chambers :: Grey Carpet Tile
Hessian, wool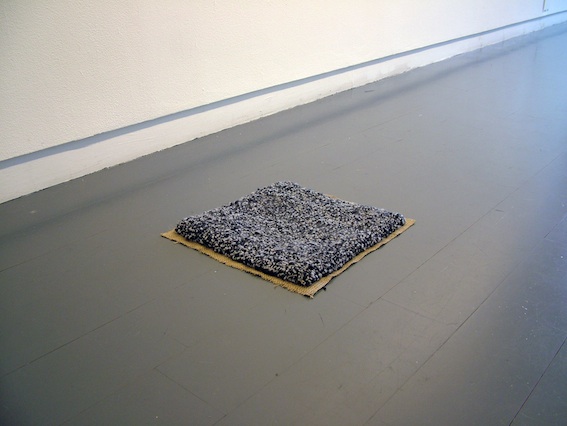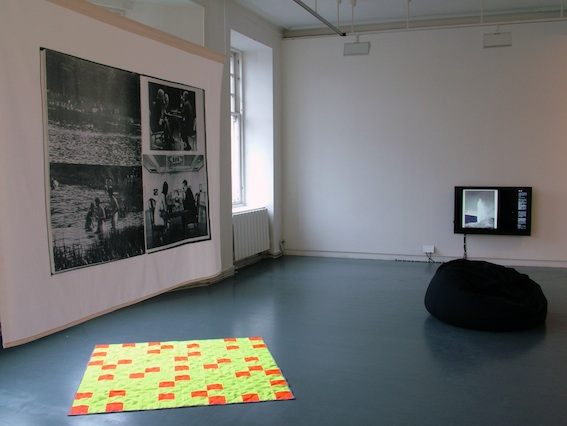 (left) Aideen Doran :: Information pp 178-179
Digital print on cotton, dowel, thread.
(on floor) Fiona Chambers :: Quilt #2 (Yellow, Orange, Grey)
Polycotton, thread, Evening Standard crossword pattern
(right) Aideen Doran :: Browsing the British Library Online Image Collection, 12th
Digital video, 2.40 minutes looped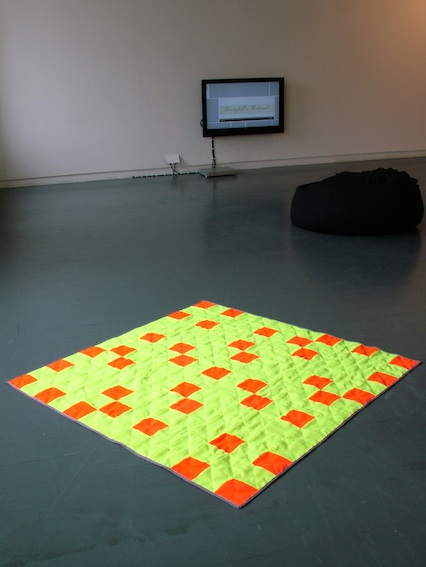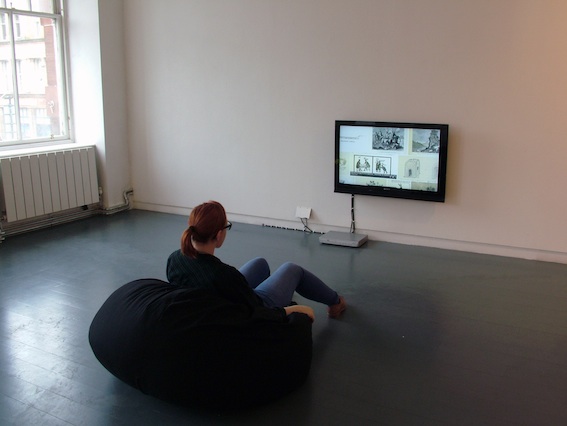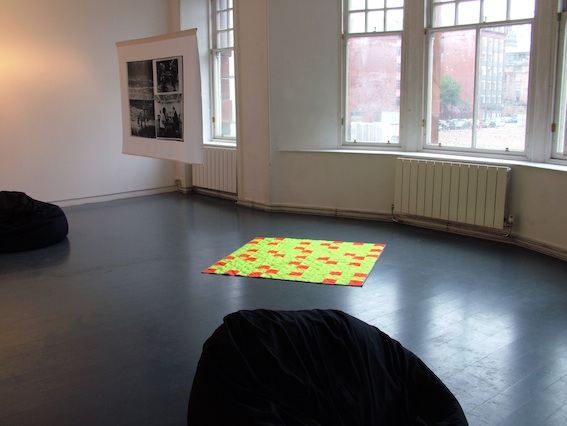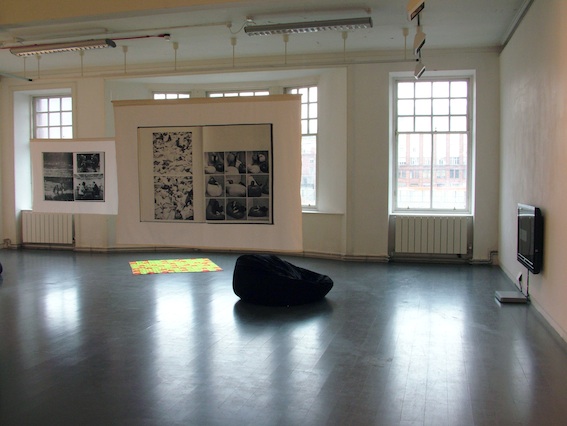 (front) Aideen Doran :: Information pp 156-157
Digital print on cotton, dowel, thread.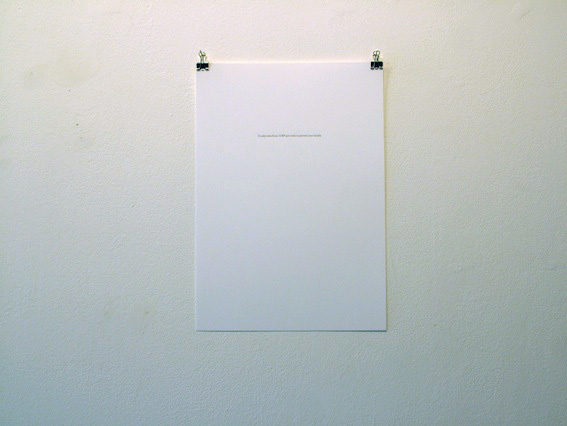 Fiona Chambers :: Spam Letterpress #1, "It only costs…"
Silver ink letterpress on Somerset Satin paper, spam subject headings